It's about this time of year that we all recoil in horror at the thought of getting out our various lumps and bumps as summer is on the horizon, which generally if you are like me means less clothes = less places to hide!
How much do you think about really embracing your shape and size and dressing it to make a statement?
So here are a few pointers to think about when dressing your shape. Most of all have fun and walk tall – Kitty xxx

The Circle
If you tend to gain weight around the middle clothes should be loose fitting around your midsection and fit more snugly elsewhere. You can for example enhance slim legs with tighter fitting trousers.
Avoid – anything that draws attention to your middle like high rise trousers, belts or anything that clinches the waist.
Wear –  Something like our fab spotty dress is great for the circle shape.
The Triangle
This shape is when the shoulders and torso are narrower than the hips, think about dressing to create a longer and slimmer silhouette such as a wide leg trousers – a wide neck line broadens the shoulders and offsets fuller hips.
Avoid – shapeless oversize jumpers and skinny jeans.
Wear – Something like our lavender blue cross-over top is perfect for this shape.
The Hourglass
With an ample bust, a narrow waist and full hips this shape can seem all angles – choose clothes that work and move with your natural curves.
Avoid – shapeless box styles tunics and oversize cardigans.
Wear – Something like our denim blue knitted top works really well as is close fitting with an open neck which flatters curves.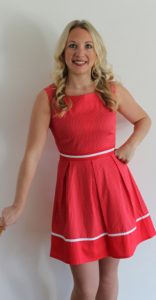 The Rectangle
This straight up and down figure has little definition at the waist always opt for styles that fit snugly in the middle but flare out at the bottom to create curves.
Avoid – dresses that are too tight all over or too flowy and unstructured around the waist.
Wear – Our spotty dresses are perfect for this shape.